Strange twists ahead in California budget battle as deadline nears
If there's no California budget by June 15, lawmakers will have to forfeit their pay. Five days earlier, the release of a new redistricting map could force many legislators to fight for their political lives. As budget crunch time approaches, the whole process is in flux.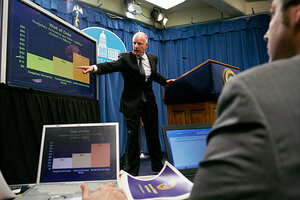 Steve Yeater/AP/File
As the June 15 deadline for a California budget approaches, lawmakers find themselves torn between two of the most fundamental political motivations: the desire for a paycheck and the desire to stay in office.
Last week, California's state controller announced that, in accordance with a ballot initiative passed in November, lawmakers would have to permanently forfeit any salaries or expenses for each day beyond June 15 that there is no state budget. That threat to lawmakers "is real," says Barbara O'Connor, director emeritus of the Institute for Study of Politics and Media at California State University, Sacramento.
Yet five days before that deadline, a new bipartisan commission (created by a 2008 ballot initiative) will release California's new redistricting map, which could radically alter the character of some lawmakers' districts. Overnight, some who are currently in Republican strongholds could find themselves scrambling to win Democratic votes – and vice versa. The result: a wait-and-see approach toward the budget.
"I absolutely think the drawing of these maps is having a huge effect on what's going on," says Mike Zimmerman, chief of staff for Republican Assemblyman Martin Garrick. "A lot of focus has been diverted by those trying to figure out how their possible votes will affect their future constituents."
---