Why House conservatives are offering fresh plan on federal debt
Reeling from the reaction to Rep. Paul Ryan's proposal to reform Medicare, an influential group of House Republicans offers an alternative plan to lock in spending and rein in the federal debt.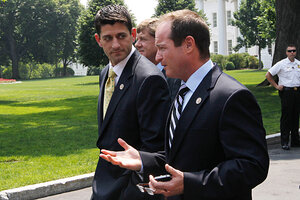 Charles Dharapak/AP
With Rep. Paul Ryan's ambitious budget plan faltering and hopes for a bipartisan deal waning, Republicans are launching a third front in their bid to remake the culture of spending in Washington.
A new proposal forwarded by the House's influential Republican Study Committee (RSC) Monday makes no changes to entitlements like Medicare to balance the budget. Instead, it seeks to lock in total spending at certain levels through immediate cuts, followed by longer term spending caps and a balanced budget amendment to the Constitution.
The proposal shows the urgency motivating many Republicans, who say America is heading toward a federal debt crisis of Greek proportions. With Democrats fearful that the House Republicans will refuse to raise the federal debt limit by Aug. 2 without major spending reforms, conservatives sense a rare moment of opportunity, and the RSC's plan is a fresh attempt to seize it.
In their letter to Speaker John Boehner (R) of Ohio and majority leader Eric Cantor (R) of Virginia, the 103 members of the RSC cast the federal debt crisis in stark terms. "The Democrats have given up, saying that the only answer to excessive borrowing is more borrowing," they wrote.
---