If Rep. Weiner stays in Congress, will he become irrelevant?
Former members of Congress paint a grim picture of what could await Rep. Weiner if he doesn't resign, including shunning and loss of influence. Democrats are already edging away.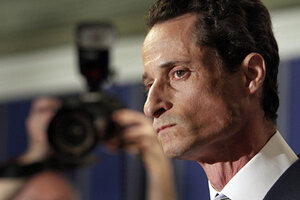 Richard Drew/AP
After he made headlines for cavorting with stripper Fanne Foxe in late 1974, Rep. Wilbur Mills of Arkansas resigned his powerful position as chairman of the House Ways and Means Committee.
The disgraced Democrat did not resign his seat, however, electing to complete his term. Instead, he sat next to the new committee chairman, Rep. Al Ullman of Oregon, "and did not say a word," recalls retired Rep. Bill Frenzel (R) of Minnesota, a former member of the powerful tax-writing committee.
"He did not want to say anything. He just became irrelevant."
Is that the fate of Rep. Anthony Weiner (D) from New York, now facing a congressional ethics investigation in the wake of his admission that he had sent lewd photos of himself to six women and then lied about it?
It might be. Congressman Weiner says he won't resign, but according to former members of Congress and their staff, it becomes increasingly difficult for lawmakers to operate once they have a cloud over their heads. Other members shun them, embarrassed to be on the same podium with them. Few of their colleagues ask for their opinion or to cosponsor legislation. Other lawmakers return contributions from the PACs of the tarnished lawmakers as if the money were radioactive.
---