In Sarah Palin e-mail dump, Alaskans seek evidence of abuse of power
The request for thousands of Sarah Palin e-mails, many from her personal account, came just as many Alaskans were growing concerned about the then-governor's ethics. Some 24,000 of those e-mails are being released Friday.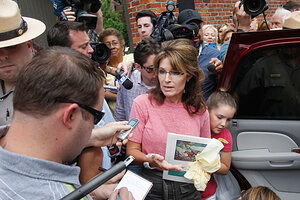 Steven Senne/AP
The Friday release of 24,199 pages of e-mails sent and received by Sarah Palin when she was governor of Alaska could, for perhaps the first time, give Americans from the Lower 48 a glimpse of Ms. Palin as Alaskans know her.
In the broadest sense, both Alaskans and Americans in the Lower 48 have a generally unfavorable view of Palin. Her 36 percent favorability rating among Alaskans in a March Dittman Research and Communications poll is in the same ballpark as her 30 percent rating in the country as a whole, according to Pollster.com.
Yet while Palin's detractors in the Lower 48 often deride her as misinformed (see Paul Revere) and lacking political gravitas, Alaskans negative view of her is driven in no small part by the ethical questions that have surrounded her since before she left the governor's office in 2009. They range from "Troopergate," in which a popular law-enforcement veteran was fired from Palin's cabinet, to lingering concerns about potential misuse of her official power.
These ethical concerns are at the core of the e-mail dump. In the fall of 2008, media outlets first requested access to Palin's e-mailed records of official business – shortly after she was nominated as the Republican vice presidential candidate, and as the scrutiny of her term in office was mounting.
What the e-mails will disclose is a mystery, but the Alaska journalists who sought them want to know if they reveal any insight into the allegations against Palin. If they do, the e-mails could begin to bring more Americans' views of Palin in line with those of residents in her home state.
---