Jobs council to Obama: Here's how to create one million jobs quickly
President Obama meets with his jobs council, which offers him its proposal for how to add one million positions to the US job market without help from Congress.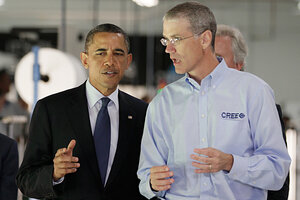 Carolyn Kaster/AP
With a weak job market weighing on his presidency, Barack Obama heard ideas Monday from a private-sector task force of some two-dozen business executives on how to boost employment.
Neither President Obama nor most economists see quick fixes to the nation's 9.1 percent unemployment rate. But the president's official jobs council offered a list of "fast-action" proposals that the council said could create more than a million jobs without the need for major legislation from Congress.
The proposals come as the economy has slowed to a disappointing crawl, and as Washington policymakers are mired in tense and politicized negotiations over the federal budget. Some new jobs policies could potentially help both the economy and offer the president a chance to stand above partisan politics, locking arms with leaders from the business community.
Obama didn't offer any major policy announcements after meeting Monday with his Council on Jobs and Competitiveness in Durham, N.C. But the council's proposals include:
• Form business partnerships with community colleges to train more workers for today's open jobs.
• Streamline permitting processes to speed more construction projects. Council members Jeff Immelt of General Electric and Ken Chenault of American Express said some simple steps could achieve this goal "without undercutting the protections that our regulatory system provides."
---