Ethanol vote: First step toward extinction for federal tax subsidies?
Sen. Tom Coburn's bid to end tax subsidies for ethanol failed. But the measure got 34 GOP votes, suggesting that many Republicans are open to eliminating tax breaks to trim the deficit.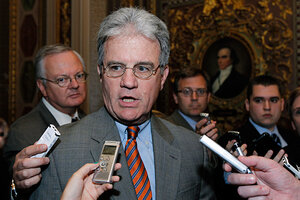 Alex Brandon/AP
Maverick Sen. Tom Coburn (R) of Oklahoma lost his first assault on the ethanol tax credit by a lopsided procedural vote, 59 to 40. But Tuesday's vote is only the beginning of a siege on perceived pork in the tax code by the lawmaker who led the charge to outlaw pork spending.
The vote also opened a rare rift in GOP ranks on the question of what constitutes a tax increase – a breach that could give bipartisan negotiators more scope to resolve a debt crisis set to hit as early as Aug. 2. Of the 40 votes to oppose a $6 billion annual tax subsidy for ethanol blenders, 34 were Republican.
"While I'm disappointed my amendment did not pass, taxpayers should remember that when I offered an amendment to defund the Bridge to Nowhere in Alaska in 2005, we lost that vote 82 to 15," said Senator Coburn in a statement after the vote.
"Over time, however, the will of the people prevailed, and Congress was forced to scale back this wasteful and corrupting practice," he added. "Today, the earmark favor factory is mainly closed. Only the tax division remains open."
---
Follow Stories Like This
Get the Monitor stories you care about delivered to your inbox.