Obama visits Puerto Rico. Is it the path to taking Florida in 2012?
At the end of what looks like a campaign swing Tuesday, Obama is visiting Puerto Rico, the first sitting president to do so since JFK. Will it help him with mainland Hispanic voters in 2012?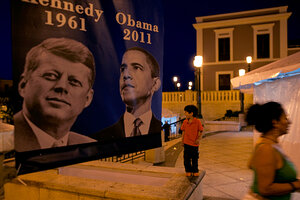 Ramon Espinosa/AP
Puerto Rico has a tradition of erecting a statue of any American president who visits the US territory, but the sculptors' chisels have long been idled: John F. Kennedy was the last president to make an official visit to the island, in 1961.
Those chisels have been busy chipping away at stone once again, however, as President Obama plans to visit Puerto Rico for a few hours Tuesday at the end of a trip that is also taking in North Carolina and Florida.
North Carolina, Florida, and … Puerto Rico? The first two are political battleground states Mr. Obama won in 2008 and would dearly love to hang on to in 2012. But the people of Puerto Rico, while US citizens, do not have the right to vote in US presidential elections. So why tack a stop there onto what otherwise looks pretty much like a campaign swing?
The answer lies in demographics, and with the push both major political parties will make to win the nation's burgeoning Hispanic vote.
Puerto Ricans make up the second-largest Hispanic population in the US after Mexican-Americans. More Puerto Ricans – almost 5 million – now live on the mainland than on the Caribbean island, where the population is falling.
---