As economic recovery sags, would a federal budget deal hurt or help?
Vice President Biden and congressional negotiators met again Wednesday to try to reach a deal on the budget deficit and US debt. As the economic recovery falters, how not to imperil it is a top consideration.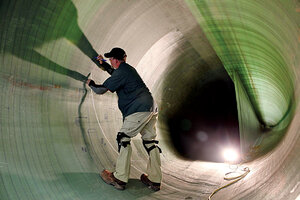 John Lovretta/The Hawk Eye/AP
Americans be warned: The debate in Washington over the federal budget and the US debt ceiling has major implications that go beyond just the scale and shape of government. It could also affect the prosperity of the wider economy, especially in terms of jobs and income growth, for years to come.
A budget deal that works well could help put a fragile economic recovery back on track, while also starting to steer the nation onto firmer footing for long-term growth. Failure to make fiscal progress, by contrast, could prolong current weakness and increase the risk of a debt crisis.
Those are the stakes as talks led by Vice President Joe Biden continue Wednesday. Republicans and Democrats have agreed to meet more frequently amid signs that US job growth has slowed.
WATCH: CBO DIRECTOR: US BUDGET PROBLEM FUNDAMENTALLY DIFFERENT THAN IN PAST
The two sides are also aware that stock and bond markets could falter if no deal is on the horizon soon. The Treasury Department has said that without an agreement to allow new borrowing, it will run into trouble paying government bills starting around Aug. 2.
The difficulties in budget talks are partly about each side maneuvering for political high ground.
Republicans say it's irresponsible to allow more Treasury borrowing without enacting a deficit-reduction plan that includes sharp cuts in federal spending. Democrats say path to long-term fiscal health should include a mix of spending cuts and tax revenue, including higher taxes paid by the rich.
---
Follow Stories Like This
Get the Monitor stories you care about delivered to your inbox.