White House: 'Limited' Libya operation didn't require approval of Congress
Responding to a House resolution, the White House cited 'important US interests' in claiming authority for the 'constrained' military operations in Libya. Critics said their concerns were not satisfied.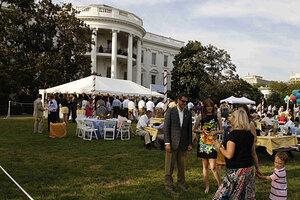 Larry Downing/Reuters
Citing "important US interests," the White House on Wednesday claimed constitutional authority for ongoing US military operations in Libya, now estimated to cost US taxpayers $1.1 billion through Sept. 30.
The claim was made in a report released as lawmakers converged on the White House for an annual picnic. It is the Obama administration's response to a House resolution on June 3 calling for the release of documents providing a legal justification for the president's decision to commit US forces without authorization from Congress.
Stepping up the pressure on President Obama, Speaker John Boehner (R) of Ohio on Tuesday warned that the president will be in violation of the War Powers Act if he does not obtain congressional approval by Sunday.
Just hours before release of the White House documents, 10 House members, led by Reps. Dennis Kucinich (D) of Ohio and Walter Jones (R) of North Carolina, filed suit in a federal court challenging the legality of US operations in Libya.
"Where in the world is Congress when an administration decides we want to bomb a country? For goodness sake, there's a Constitution!" says Congressman Jones, in a phone interview.
---