Libya conflict: Backlash ensues to Obama's refusal to seek Congress's nod
Obama says US military intervention in Libya does not require consent from Congress. Many lawmakers and pundits say otherwise. The rub is over the definition of 'hostilities.'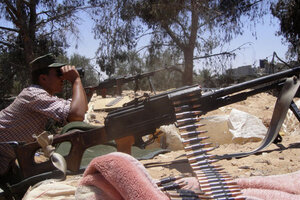 AP
The Obama administration is increasingly isolated at home over its handling of the Libya conflict – mainly over its refusal to seek Congress's consent for continued US military operations against the Qaddafi regime, but also over the US role in the Libya campaign in the first place.
The White House found little support this week for its assertion that US internvention in Libya does not amount to "hostilities." Under the War Powers Resolution of 1973, a president can singlehandedly engage the nation in "hostilities" for 60 days, but thereafter he either needs congressional approval to continue or has 30 additional days to withdraw US forces. That 90-day free pass is over on Sunday, critics say.
From Democrats to Republicans, from Fox News commentators to the Washington Post, criticism – even guffawing – resounded over the administration's reasoning that US activities do not rise to the level of "hostilities." No words are minced in the excerpts below.
---