Why has New York's gay marriage bill been stalled for days?
Republicans in the Senate say they are concerned about protections for religious groups that don't want to perform a gay marriage, but more-political calculations could also be playing a role.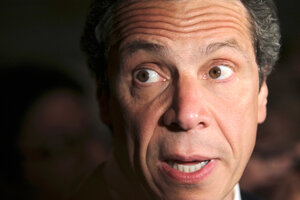 Mike Groll/AP
New York's gay marriage law remains stuck in the Republican-controlled state Senate, where legislators are considering the law's potential impact on religious groups – and, some analysts say, their own political fortunes.
The Democratic-dominated Assembly last week approved the bill, which would make New York the sixth and most populous state to permit same-sex marriages. Since then, the Senate's Republican majority has held a series of closed-door meetings – several with Democratic Gov. Andrew Cuomo – to discuss the bill and whether it should be brought to a full vote.
The holdup has centered on whether exemptions in the bill to protect religious groups from civil lawsuits if they refuse to preside over or host same-sex ceremonies are sufficient.
To some legal analysts, Republicans' concerns are well founded. Religious-affiliated nonprofits such as Catholic Charities or the Salvation Army lack certain protections, as do individuals who are morally opposed to gay marriage, says Robin Fretwell Wilson, a law professor at Washington and Lee University in Lexington, Va.
---