As Gen. David Petraeus shifts to CIA, nature of war shifts with him
Gen. David Petraeus is on Capitol Hill Thursday for his confirmation hearing for the CIA post. The US is moving away from his troop-heavy approach to war, including, to a degree, in Afghanistan.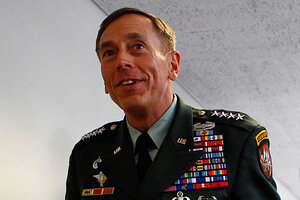 Jim Young/Reuters
At his Senate confirmation hearing for CIA director Thursday afternoon, Gen. David Petraeus will stand as a kind of metaphor for the passing of the torch from counterinsurgency to counterterrorism operations in America's antiterror wars.
General Petraeus is considered the spiritual father of the troop-heavy, win-the-locals-hearts counterinsurgency strategy, which he used to turn around the wars in Iraq and Afghanistan. But as he takes the helm of the CIA, the focus of the wars in Afghanistan and Pakistan, Iraq, and other places like Yemen appears to be shifting toward intelligence-driven covert operations that rely less on ground troops and more on unmanned drones and precision airstrikes.
Petraeus, who plans to hang up his general's uniform, will be flowing with the times as he shifts from commander of troops on the ground to director of the nation's expanding covert wars, some national security experts say.
No one anticipates anything other than smooth sailing for Petraeus's confirmation, such is his reputation on Capitol Hill.
---