House sends a muddled message on Libya: no support, but funding untouched
In a confusing pair of votes, US House said Friday it won't stop paying for the US intervention in Libya, but it won't vote to support it, either.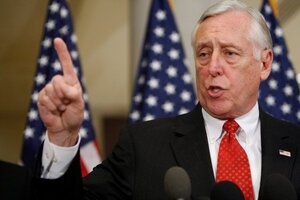 Pablo Martinez Monsivais / AP / File
The House of Representatives sent the White House a muddled message on Libya Friday.
After first rejecting a measure in support of US military participation in the NATO-led operation, the House went on to defeat a cutoff of funding for US involvement in the Libya war that Republican leaders had considered a sure thing.
For weeks, members of Congress and congressional experts had predicted that a strange-bedfellows coalition of House anti-war Democrats and fiscally-conservative Republicans would castigate President Obama for his unilateral engagement of the United States in the war in Libya. But when the vote was called Friday afternoon, the House stunned many observers, including party leaders, by defeating a measure to scale back US participation in the NATO-led operation in Libya by cutting funding.
---