Obama press conference: President stays in closet on gay marriage
In a rare solo press conference, Obama dodged reporters' efforts to make him clarify his position on gay marriage. He supports civil unions but has said his position is 'evolving.'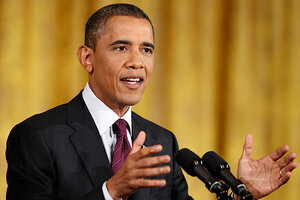 Charles Dharapak / AP
Try as they might, the White House press corps could not get President Obama to say out loud something that he is widely thought to believe: that same-sex marriage should be legal.
In his first solo press conference since March – and on the heels of New York's historic legalization of gay marriage last weekend, the biggest state to do so – Mr. Obama deflected multiple attempts to get him to say the magic words. Obama has long said he supports civil unions, but in recent months has said he's "evolving" in his views on the definition of marriage.
Obama's reticence to come right out and say "I support gay marriage" reflects a political calculation. He's heading into his reelection campaign, and he needs to attract key demographics in swing states – seniors, minorities, and political independents. Although public support for gay marriage has grown significantly in recent years, that's not necessarily the case among those groups. And in what he expects to be a close election, the president does not want to lose any votes he doesn't have to do.
In addition, gay activists say they know that in his heart, Obama is on their side. Of those who would otherwise support his reelection, most say that his artful dodges on gay marriage will not change their votes.
---