California budget: A sign that the Golden State is finally on the right track?
Several voter-approved propositions helped resolve the typical California budget dysfunction this year. With new reforms, a new budget, and fix-it Gov. Jerry Brown, the future of the Golden State could be brightening.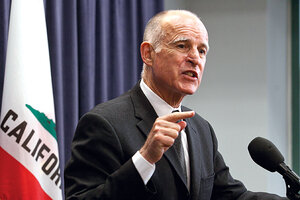 Damian Dovarg anes/AP
Is California becoming (gasp!) governable again?
With a new annual budget signed June 30 – on schedule for the first time in recent memory – California appears to have taken a step out of dysfunction and toward a profound remodeling of its politics.
Whatever kudos are due probably go to Golden State voters themselves. Last year they approved a suite of reforms intended essentially to reboot the state's political structure – after a decade marked by the recall of a governor, legislative gridlock, huge budget deficits papered over with dubious fixes, state-issued IOUs in lieu of payment, and a trashed credit rating.
Some critics say the reforms do not go far enough, suggesting that the ballot-initiative process that voters here wield with such enormous – and sometimes contradictory – effect must be brought under control. To others, though, this is the most fertile period of state reform in nearly a half century.
"California is in an era of reform, and I think 10 years from now, we will look back at these past two to three years as just the start of a broad movement to shake up the system and do things fundamentally different from the previous 50 years," says Mark Baldassare, president of the Public Policy Institute of California (PPIC).
Changes voters made
The reforms have altered some of the most important levers of government.
•Voters made clear in November that they were fed up with the partisan stalemates that have prevented a state budget from being delivered on time each year since 1986. They approved Proposition 25, which eliminated the provision that a budget must get two-thirds of the votes in the legislature to pass. Budgets now need only a majority vote. This change meant that majority Democrats were able to push through a budget in the closing days of June, before the start of the new fiscal year on July 1.
---