Who loses if debt-limit talks fail? Possibly Republicans more than Obama.
Columnist David Brooks suggested Tuesday morning that intransigence in the debt-limit talks may lead Americans to declare Republicans 'not fit to govern.' Is he right?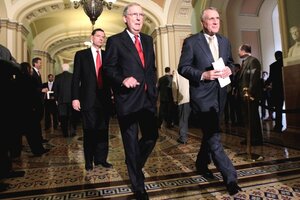 J. Scott Applewhite / AP
Members of Congress returned from a holiday weekend to find one major bit of business still on their to-do list: Coming up with an accord to allow the nation to keep borrowing money, while also imposing new restraint on federal spending.
What if the two sides just can't reach a deal? Who stands to lose?
With an Aug. 2 deadline to resolve the issue approaching, the questions are growing less hypothetical by the day. One prominent commentator, conservative New York Times columnist David Brooks, took sides Tuesday in a sharply-worded column that amounted to a tongue-lashing for the whole Republican Party.
"If the debt ceiling talks fail, independent voters will see that Democrats were willing to compromise but Republicans were not," writes Mr. Brooks, who is also a frequent TV commentator on the PBS NewsHour. "If responsible Republicans don't take control, independents will conclude that Republican fanaticism caused this default. They will conclude that Republicans are not fit to govern."
Brooks stirred up a kind of hornets' nest of discussion by asserting that the Republican Party is so fixated on one issue – tax levels – that it may have become "an odd protest movement" rather than "a normal conservative party."
Some fellow pundits agreed, while critics said Brooks, not the Republican Party, was unreasonable. A blog post by Timothy Carney at the Washington Examiner said the columnist "loves the imaginary tax deal that exists in his own brain."
---