Labor unions: the latest moves to empower or weaken them
The Obama administration is showing support for labor unions, while some states, like Wisconsin, work to strip some of their key powers. If the job market continues to weaken, could Obama's support for unions hinder his reelection campaign?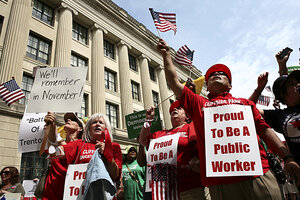 Mel Evans/AP
Depending on who tells the story, recent Obama administration moves to support labor unions are either a major obstacle to job creation or a long-overdue effort to level the labor-management playing field. Similarly, on the other side of the political spectrum, Wisconsin Gov. Scott Walker (R) is either a callous "union buster" or a courageous restorer of fiscal sanity.
Whoever's right, the competing narratives share one important thread: They signal that organized labor has become a hot political issue.
Labor is in the news this year, not because of strikes or lockouts (although there's also some of that in sports) but because of actions by policymakers that promise to empower unions or weaken them. At stake could be the health of job creation, the tone of US workplaces, and the power of labor in national politics.
Some of the latest signs:
•The National Labor Relations Board (NLRB), an independent panel whose current four members include three Obama appointees, proposed new rules in late June designed to speed up employee voting on whether to unionize workplaces. Critics say that after congressional Democrats failed to pass a controversial "card check" law on union elections, the labor panel is using a backdoor means to make the process more union-friendly.
•In April, another NLRB official appointed by President Obama launched a complaint against the Boeing Co. for deciding to locate a new assembly plant in South Carolina, rather than on its traditional unionized turf near Seattle. The case now looks set to wend a slow journey through the court system.
---