EPA tells coal-fired plants to reduce pollution. Some may just shut down.
The details of new EPA regulations, released Thursday, mandate reductions in power-plant emissions. 'Old, decrepit plants' without pollution controls may be just too costly to retrofit and be shut down by their owners, say analysts.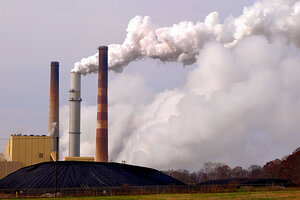 Ken Stewart / ZUMA Press / Newscom / File
[Editor's note: The headlines and story have been updated to clarify that while EPA's actions may cause some power plants to be closed, the agency is not mandating their closure.]
The Environmental Protection Agency today unveiled tough new air pollution regulations aimed at dramatically cleaning up emissions of coal-fired power plants and boosting air quality across 27 states, a move analysts say will likely cause scores of older, inefficient plants to become uneconomical and be shut down.
Effects should appear relatively quickly. Under the new Cross-State Air Pollution Rule, some 900 coal-fired, natural gas-fueled, and oil-burning power plants must slash emissions by 2014.
"This is a real milestone," exulted Frank O'Donnell, president of Clean Air Watch, a Washington-based environmental group in a statement. "This is a long-overdue and much-needed step towards protecting the health of people in states downwind of big coal burning power plants. It will prove to be a life saver."
But beyond environmentalists' cheers, industry groups were predictably upset. Coal-state lawmakers and industry groups predict the rule will harm the economy.
"The EPA is ignoring the cumulative economic damage new regulations will cause," said Steve Miller, president and CEO of the American Coalition for Clean Coal Electricity, an industry lobby group, in a statement. "Our industry needs adequate time to install clean coal technologies to comply with new regulations."
---