National debt talks: Signs some in GOP may yield on tax 'loopholes'?
Republican and Democratic leaders resume talks with President Obama Thursday on raising the national debt limit and bringing down the deficit. Will anyone bring more to the table this time?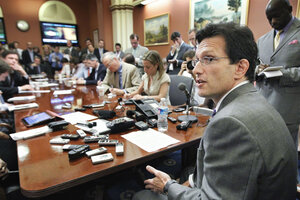 Manuel Balce Ceneta/AP
When President Obama invited congressional leaders to resume debt talks at the White House on Thursday, he added a call to "check their ultimatums at the door" – and some fixed partisan taboos indeed appear to be shifting.
For Republicans, the key ultimatum has been that all tax increases – marginal rates and loopholes in the tax code – are off the table. Democrats, for their part, have aimed to shield entitlements, such as Medicare and Social Security, from cuts as part of a debt-and-deficit deal.
But even these taboo topics may now be grist for a grand bargain to cut the federal deficit by as much as $4 trillion over the next 10 years and to avert default on the national debt by an Aug. 2 deadline. For Republicans, the danger here that they would appear to run afoul of the "taxpayer protection pledge" of Americans for Tax Reform, which 236 current House members and 41 senators (mostly Republicans) have signed.
But the prospect of a $4 trillion deficit-reduction deal, which would include raising the national debt limit to avert the first-ever US default on debt repayment, is tantalizing, too – even for some antitax Republicans. They are hoping that closing tax loopholes and then using that new revenue to reduce overall tax rates and pay down the national debt would make sense to their constituents, even if it is technically a violation of the taxpayer protection pledge because the revenue change does not net to zero.
---