Debt ceiling: Why Sunday could be make-or-break day for 'grand bargain'
President Obama is pushing for a comprehensive deal to raise the debt ceiling and trim long-term deficits. But any big deal will require arm-twisting in Congress, and time is running out.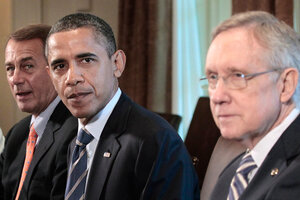 Pablo Martinez Monsivais/AP
The White House and congressional leaders are looking to a new round of talks on Sunday to signal whether a grand bargain on raising the debt ceiling will come quickly – or at all.
The sense of urgency surrounding the Sunday talks is driven not only by an economic deadline, but increasingly by a political one, as well. The government is on track to run out of money by Aug. 2, and in order to meet that deadline, congressional leaders will need weeks to sell a comprehensive deal – which will likely include painful spending cuts or tax increases – to their respective parties.
"If we are going to have an agreement, we'd have it by Sunday," said Sen. Lamar Alexander (R) of Tennessee after a briefing with House Speaker John Boehner and Senate minority leader Mitch McConnell on Thursday's White House debt talks.
In a shift, President Obama this week played down rumors that the White House would have to settle for a short-term deal to avoid default on Aug. 2. Instead, he said there is a historic opportunity to restore confidence that the US can stem the tide of red ink and get its fiscal house in order.
So far, negotiators have avoided leaking specifics on the debt talks and are critical of news reports that claim, for example, that Social Security cuts are now on the table. But the White House and House and Senate leaders confirm that the talks are aiming at significant cuts – at least $4 trillion over a 10- to 12-year period – and are nearing endgame.
---