Debt ceiling: If $4 trillion 'grand bargain' fails, is America in trouble?
Debt ceiling talks could result in a $4 trillion 'grand bargain,' or a smaller $2 trillion deal. Most economist say the bigger deal would be more helpful – and send a positive message to markets.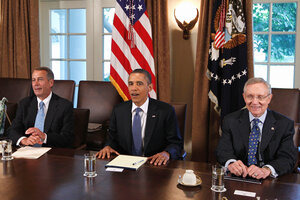 Charles Dharapak/AP
Talks over how to tame runaway federal borrowing have bounced back and forth between two general targets: a "grand bargain" $4 trillion in deficit reduction and a smaller deal for perhaps $2 trillion.
President Obama insisted Monday that he's eager to push for the larger target, if Republicans would just consider boosting tax revenue as well as cutting spending cut to get the job done. House Speaker John Boehner said over the weekend that the politics of the moment favor a smaller plan.
In either case future federal deficits would be smaller, by those projected amounts, over the next decade.
So would it be bad for the economy if the debt talks can't hit the higher target?
Finance experts don't come down uniformly on one side of the question, but many say it would be better to reach the large goal than the small one.
"This country needs a deal to achieve $4 [trillion] to $5 trillion in deficit reduction, and we need to put such a deal in place as quickly as possible," Maya MacGuineas, president of the Committee for a Responsible Federal Budget, said in a recent statement on the debt negotiations.
The group she heads, in its nonpartisan analysis of the fiscal issues, argues that failing to take strong action could put the economy at risk. In its estimate, deficit reduction of less than $4 trillion won't be enough to stabilize the national debt as a share of the economy in coming years. (The $4 trillion target was also used by President Obama's bipartisan fiscal commission, among others.)
Fast-growing debt could slow economic growth and cause investors to demand higher interest when loaning money to the US Treasury.
---