McConnell's last ditch debt ceiling plan: What's in it for Republicans?
Senate Republican leader Mitch McConnell proposes a 'last choice option' that would allow President Obama to raise the national debt ceiling without GOP support.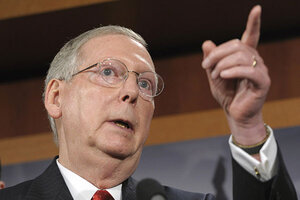 Susan Walsh/AP
In a surprise move, Senate Republican leader Mitch McConnell on Tuesday proposed a "last choice option" to avoid default on the national debt that would require the support of just over a third of the House and Senate to raise the national debt ceiling.
The McConnell proposal, which requires special legislation to be adopted, gives the president expedited procedures to increase the debt limit by as much as $2.4 trillion that require only submission of a plan to reduce spending by a greater amount. There is no requirement that Congress actually pass those spending cuts.
But even if the cuts are never passed, the proposal has two political advantages for Republicans: It forces President Obama to lay out his proposed spending cuts in writing, a longtime GOP demand. And it absolves Republicans of responsibility for sending the nation into its first-ever default, as early as Aug. 2.
In exchange, Republicans give up all leverage on spending – riling many conservatives who elected a new GOP House majority to make tough decisions on spending, and diminishing Congress's constitutional power of the purse.
Senate majority leader Harry Reid (D) Nevada said at a press conference that he did not know much about the plan, but stated: "I am not about to trash his proposal. It's something that I will look at."
---