Debt ceiling: financial world warns Washington to hurry up
Fed Chairman Ben Bernanke warns of a 'self-inflicted' wound, and Wall Street firms see dire consequences, if stalemate over how to raise the US debt ceiling persists.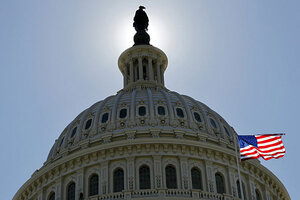 Alex Brandon/AP
The financial world is flashing an alert to politicians in Washington: You better stop bickering pretty soon, and reach a deal to raise the federal debt limit.

First came word from Moody's, the credit rating firm, that it might downgrade US Treasury debt from its top tier in the realm of bonds. That was Wednesday.

On Thursday, Federal Reserve Chairman Ben Bernanke, in his semi-annual testimony to Congress, said politicians would impose a "self-inflicted" wound to the economy if a needed hike in the debt limit is held up by political differences.
---