All of a sudden, Congress is full of debt ceiling solutions
With the deadline approaching, the House and Senate are going down two different paths in search of a deal to raise the debt ceiling. Here is a rundown of what they are considering.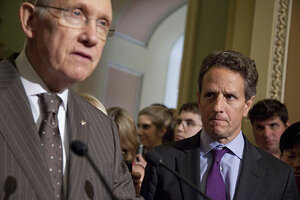 Evan Vucci/AP
The initiative for resolving the debt-limit crisis is shifting back from the White House toward Capitol Hill, where House and Senate leaders are preparing alternative legislative strategies to avoid default.
House Republicans on Friday released details of "cut, cap and balance" legislation, a framework that they say will make it possible for GOP lawmakers to support the president's request for an increase in the debt limit. In return for approving a $2.4 trillion increase to the debt ceiling, the measure would cut total spending for 2012 by $111 billion, cap federal spending at 19.9 percent of gross domestic product by 2021, and require the passage of a balanced budget amendment to the US Constitution.
President Obama has called the idea not serious. "You'll probably see the House vote on a couple of things just to make political statements," he said Friday.
The emerging deal on the Senate side is seen as being the more likely path to a bipartisan deal. Senate majority leader Harry Reid is working to tweak a proposal by Republican leader Mitch McConnell that creates an expedited legislative procedure for raising the debt limit. Aides say that the final package could also include a broad range of spending cuts, as well as the establishment of a new bipartisan commission tasked with finding further cuts that would be politically feasible.
---
Follow Stories Like This
Get the Monitor stories you care about delivered to your inbox.