Amending Social Security: how to's surface during national debt talks
Obama put Social Security on the table as part of his bid to resolve the national debt crisis. He hasn't specified what the changes might entail, and Democrats in Congress oppose any cut in benefits. But the talks signify that politicians know reforms must come, eventually, to keep Social Security solvent.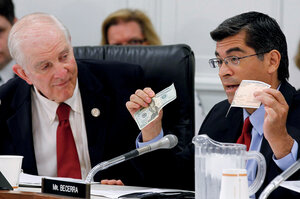 Alex Brandon/AP
Even if Social Security ends up untouched after the current round of wrangling over federal finances, the bipartisan negotiations have put Americans on notice: Even the most sacrosanct of federal programs is coming up for review and, before long, changes.
In his recent bid for a "grand bargain" to control future federal budget deficits and the national debt, President Obama put Social Security on the table, along with just about everything else.
With many of Mr. Obama's fellow Democrats set firmly against any reduction in entitlement benefits, and most Republicans stridently opposed to the tax increases that the president sees as a vital part of such a bargain, the idea to "go big" has proved extraordinarily difficult.
Such a package would deprive each party of a key talking point for the next election – the ability to stand as the party that "won't raise taxes" or the one that "won't cut Social Security" or Medicare.
But Obama's push to consider entitlement reform reflects a reality that Americans also recognize. Social Security needs to change if it is to remain solvent for future generations. And the urgency is rising. Already the program is paying out more in benefits than it draws in revenue – a pattern with no end in sight.
The battle over Social Security is distinct: It's the most popular of federal programs and the bedrock of retirement security for the typical household.
Political third rail
For that reason, Social Security has long been viewed by politicians in both parties as the quintessential "third rail" issue, something touched only at grave political risk.
---