'Gang of Six' plan hailed as debt-ceiling breakthrough. What's in it?
The proposal by the 'Gang of Six' senators Tuesday draws on ideas from the deficit commission. The middle-of-the-road plan will have to overcome partisan concerns and a lack of time.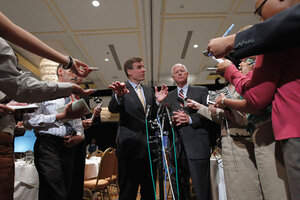 Alex Brandon/AP/File
A new spending proposal by the Senate's bipartisan "Gang of Six" Tuesday is being called a potential breakthrough in efforts to include major deficit reduction in a "grand bargain" to raise the national debt ceiling.
But with Congress running out of time before the Aug. 2 debt-ceiling deadline and partisan forces already criticizing the plan, it faces numerous challenges to break the deadlock on Capitol Hill.
It is, however, seen as having better prospects than the Republicans' "cut, cap, and balance" bill passed by the House Tuesday night in a near-party line vote, 234 to 190. The bill, which would cap future spending at less than 20 percent of gross domestic product and require passage of a balanced-budget amendment to the Constitution, has virtually no chance of passing the Senate, and the president has vowed to veto it.
The proposal by the bipartisan senators in the Gang of Six, by contrast, tries to strike a middle ground between spending cuts and revenue increases and is based on the recommendations of the president's deficit commission.
The details of the proposal have yet to be released. But a five-page draft outlines a plan to cut deficits by $3.7 trillion over 10 years. Key elements include:
A new bill that cuts $500 billion in discretionary spending over 10 years, including defense spending.
An immediate freeze of congressional pay and the sale of unused federal property.
New discretionary spending caps through 2015.
A requirement that congressional committees report legislation within six months to find billions in savings in entitlement programs over 10 years.
Creation of a 67-vote threshold to make it more difficult for Congress to exceed its spending caps.
A longer-term overhaul of the tax code, eliminating many tax breaks and using the savings to reduce marginal income tax rates and pay down the deficit.
Elimination of the $1.7 trillion Alternative Minimum Tax and the $298 billion Sustainable Growth Rate formula for Medicare (known as the "doc fix") – provisions aimed at reducing deficits that Congress has routinely bypassed.
An overhaul of Social Security, but direction of all savings to long-term solvency, not to paying down the debt.
---