'Gang of Six' revives hope for big deal in stalled debt-ceiling talks
President Obama's hopes for a 'grand bargain' both to raise the debt ceiling and rein in the deficit got a boost Tuesday when the Senate's 'Gang of Six' proposed $3.7 trillion in deficit reductions.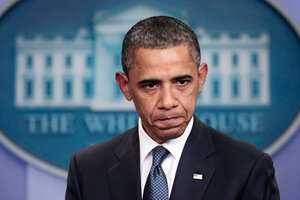 Pablo Martinez Monsivais/AP
The Senate's bipartisan "Gang of Six" is back with a new framework for significant deficit reduction, and President Obama is pleased.
Speaking at the top of Tuesday's regular White House briefing, the president called the senators' framework "broadly consistent" with his "balanced approach" of using both spending cuts and increased revenues to achieve major deficit reduction and thus secure congressional approval for raising the national debt ceiling. After Aug. 2, the government runs out of borrowing authority, and thus risks a potentially calamitous default.
The plan, whose details the White House was still studying, would reportedly cut $3.7 trillion from the federal budget over 10 years.
Mr. Obama called the proposal "a very significant step," saying it reflects an acknowledgment by Democratic senators that entitlement programs are part of the problem and by Republican senators that revenues have to be part of the mix.
"So here's where we stand," Obama said. "We have a Democratic president and administration that is prepared to sign a tough package that includes both spending cuts, modifications to Social Security, Medicaid, and Medicare that would strengthen those systems and allow them to move forward, and would include a revenue component."
---