Obama, in stand for gay rights, calls for repeal of DOMA
In nod to gay rights, Obama backs repeal of DOMA (Defense of Marriage Act), which defines marriage as between one man and one woman and withholds federal benefits from gay married couples.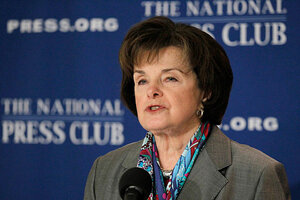 Luis M. Alvarez/AP
President Obama is calling for the repeal of the 1996 Defense of Marriage Act, which bans same-sex married couples from receiving the same federal benefits available to opposite-sex married couples.
White House spokesman Jay Carney said Tuesday that Mr. Obama was "proud to support the [repeal effort], which would take the DOMA off the books once and for all."
The announcement came a day before the Senate Judiciary Committee is set to conduct hearings examining the Respect for Marriage Act, a legislative vehicle designed to overturn DOMA.
"This legislation would uphold the principle that the federal government should not deny gay and lesbian couples the same rights and legal protections as straight couples," Mr. Carney said.
The repeal law would mandate that the 1,100 federal rights, privileges, and benefits currently available only to heterosexual married couples must be guaranteed to same-sex married couples as well.
The Obama administration announced in February that the president considered DOMA unconstitutional and that the Justice Department would no longer defend it against legal challenges. House Speaker John Boehner (R) of Ohio stepped into the void and hired counsel to defend the statute. Congressional Republicans have threatened to reduce Justice Department appropriations to pay for the effort.
---