News Corp. announces new code of ethics. Will it make a difference?
In response to the phone-hacking scandal that engulfed News Corp.'s News of the World, founder Rupert Murdoch said his media empire would have a new code of ethics. It could help – if managers are serious about enforcing the rules, media experts say.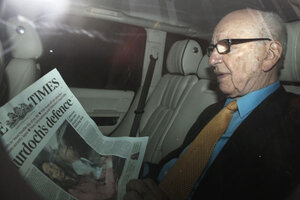 Lewis Whyld/AP
Fallout from the ongoing News Corp. phone-hacking scandal in Britain now includes a promise from company founder Rupert Murdoch to usher in a new era of ethics. The announcement came late Tuesday in a letter to all employees.
Such promises are both expected and necessary in the wake of any ethical breach by a media outlet and an important first step to regaining public trust, say experts. What will matter now is how serious Murdoch and his deputies are about enforcing them and keeping them up to date.
"Most newsrooms are in a constant process of updating and revising their codes of behavior, if for no other reason than to keep them abreast of changes in the media landscape," says Kelly McBride, senior faculty for ethics, reporting, and writing at The Poynter Institute, a journalism think tank in St. Petersburg, Fla.
For example, just a week ago, the Associated Press updated and reissued new guidelines on how reporters should use social media.
Mr. Murdoch's plan is a good start, agrees Ronald Hanser, president of the public-relations firm, Hanser and Associates, in an e-mail. But News Corp.'s "new standards" will hardly be groundbreaking for the industry. "I see no need for other media in North America to change journalistic codes," he says.
---