What Obama said in his 30-minute primal scream at the GOP
President Obama, clearly angry, let loose on House Republicans in what was, for him, an extraordinary fit of pique Friday night after talks with Speaker John Boehner broke down.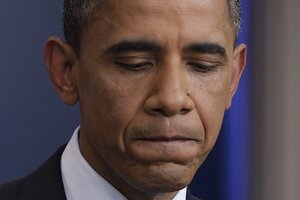 Newscom
It was President Obama's Howard Beale moment: He was mad as hell, and not going to take it anymore.
The president had just been informed late Friday afternoon that Republican House Speaker John Boehner was breaking off talks over a deal to enact major deficit reduction and raise the federal debt ceiling. And there is only a week and a half to go until Aug. 2, at which points the US risks a potentially catastrophic default without new borrowing authority. The White House hastily called reporters to the briefing room, and Mr. Obama let 'er rip.
"I've been left at the altar now a couple of times," the steely-eyed president said. "And I think that, you know, one of the questions that the Republican Party's going to have to ask itself is, can they say 'yes' to anything?"
"Can they say yes to anything?" he repeated. "I mean, keep in mind it's the Republican Party that has said that the single most important thing facing our country is deficits and debts."
Obama said that he had put forward a package that would significantly cut deficits and debt in a way that does not raise individual tax rates. It is compatible, an exasperated Obama said, with the no-tax pledge that "a whole bunch of these folks signed on to, because we were mindful that they had boxed themselves in."
The challenge, he said, "has to do with the seeming inability, particularly in the House of Representatives, to arrive at any kind of position that compromises any of their ideological preferences – none."
The Democrats had done their part and agreed to compromises that were difficult to swallow, he said. Now it's the Republicans' turn.
---