Dueling debt-ceiling plans: Can either pass Congress?
House Republicans and Senate Democrats introduced their plans to resolve the debt-ceiling impasse before Aug. 2. But bipartisan hopes appear thin.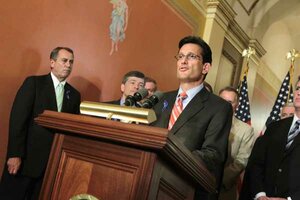 J. Scott Applewhite/AP
With eight days before the US loses its authority to borrow funds, House and Senate leaders launched dueling plans to resolve the crisis.
Both deliberately avoid calls to raise taxes – a nonstarter for Republicans that derailed previous bids at a solution. But neither plan can yet claim a clear or even likely path to a bipartisan majority.
"What they have in common is that neither one is likely to pass – even its own house," says Larry Sabato, a political scientist at the University of Virginia. "Here's a case where you really do need a bipartisan agreement, and there's no bipartisanship left.
The Republican plan
The House Republican plan, introduced on Monday by Speaker John Boehner (R) of Ohio, promises $3 trillion in spending cuts over 10 years, spending caps, and the promise of a vote on a balanced-budget amendment. It's a softer version of the "cut, cap, and balance" plan that passed the House on a near party-line vote July 19 but went nowhere in the Senate.
The plan also provides an expedited track for the president to request a hike in the debt limit to be implemented in two stages. A first step calls for Congress to pass $1.2 trillion in spending cuts, allowing the president to request a $1 trillion hike in the debt ceiling. The request would be deemed passed unless Congress votes a resolution of disapproval – a procedure first proposed by Senate Republican leader Mitch McConnell.
---