Obama bemoans Congress's inaction on immigration reform, too
It's not all about the debt ceiling. In a speech to the Latino community – a key voter bloc for 2012 – Obama on Monday blamed Republicans for blocking immigration reform at the federal level.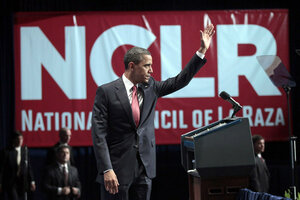 Pablo Martinez Monsivais/AP
President Obama's impasse with congressional Republicans over the debt ceiling wasn't far from thought Monday as he made a campaign-style speech to a key constituency, the Latino community.
Speaking to the National Council of La Raza, the largest Latino civil rights organization in the US, Mr. Obama expressed regret over having to enforce deportation laws that split up families and deny educational opportunities to young people who immigrated illegally through no choice of their own.
"Now, I know some people want me to bypass Congress and change the laws on my own," Obama said. "And believe me, right now dealing with Congress..."
The Obama-friendly crowd interrupted him with cries of "Yes you can! Yes you can!"
"Believe me," he continued. "Believe me, the idea of doing things on my own is very tempting."
But, Obama quickly added, "That's not how our democracy functions. That's not how our Constitution is written."
Both in dealing with immigration laws he dislikes and in trying to reach agreement with congressional Republicans to raise the debt ceiling before the nation risks beginning to default on Aug. 2, Obama captured the frustration of governing in a system with checks and balances – and a sharp partisan divide on Capitol Hill.
In his address to the La Raza annual luncheon here in Washington, Obama highlighted the issue that is front and center to Americans of all races and ethnicities – jobs and the economy. Among Latinos, the unemployment rate is 11.6 percent, well above the overall national rate of 9.2 percent.
---