Now, Arizona wants donations to build its own fence on Mexico border
A year ago, Arizona asked for donations to defend its immigration law in court. On July 20, fundraising began for a fence on the Mexico border. Donations have come from all 50 states.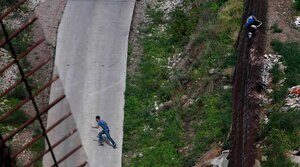 Jae C. Hong/AP/File
For the second time in a year, Americans are being asked to rally to Arizona's anti-illegal immigration efforts.
With the launch of buildtheborderfence.com on July 20, Arizona is trying to raise at least $50 million to build its own border fence. So far, about 2,300 Americans have donated more than $105,000.
This follows on Republican Gov. Jan Brewer's decision to establish a legal fund for the defense of the Arizona's controversial immigration law, Senate Bill 1070, which remains tied up in court. Since May 2010, the fund has raised $3.8 million.
The response adds to Arizona's position as the leading voice among states calling for Washington to toughen its immigration laws and border-interdiction efforts.
"There's obviously a frustration out there," says Mike Philipsen, a spokesman for the Arizona Senate. "In the first day we got multiple donations from every state in the country."
Donors have contributed as little as $5 and as much as $2,000 since the project began, he adds.
The initial response shows that Americans view illegal immigration as a problem whose impact extends well beyond Arizona, adds state Sen. Steve Smith, a Republican from the Phoenix area who sponsored legislation authorizing fundraising for the fence.
"It's America's problem and I think America understands that," he says.
Senator Smith and his allies see the fence as a much-needed remedy to lax border security they say the federal government is unwilling to address. The plan is to build a contiguous border fence along Arizona's roughly 370 miles of the 2,000-mile US-Mexico border. The existing international boundary includes tall bollard fences, barbed wire, and vehicle barriers.
---