Is California's ballot initiative process broken? Lawmakers think so.
California's ballot-initiative process has roiled that state for 100 years. Legislators are now proposing reforms to bring it under control.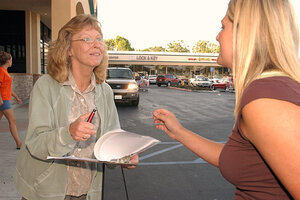 Rene Macura / AP / File
California's experiment in direct democracy – where citizens pass laws by voting on initiatives and referendums, sidestepping the legislature entirely – is facing three new reforms.
To get on a ballot, measures must be supported by petitions with more than 500,000 signatures. This has led to the practice of paying people for each signature they collect, which critics say promotes "signature fraud."
Others say the whole process needs more transparency, as big-money contributors can remain largely unknown.
California's initiative process was designed to give serious, political voice to the average citizen, says state Sen. Mark DeSaulnier, but over the years has become "hijacked by monied interests on the right and left." Special interests spent over $1.3 billion on proposition battles between 2000 and 2006, according to the Center for Governmental Studies (CGS), a Los Angeles-based political reform organization.
He adds, "what is wrong in California is abuse of the initiative system."
Opponents of the reform bills say legislators are hoarding power by making citizen legislation more difficult. "They're trying to make it harder for plain folks," Kris Vosburgh, executive director of the Howard Jarvis Taxpayers Association, told California Watch.
---