As congressional debt-ceiling plans founder, eyes turn to executive option
There is growing pressure on President Obama to simply declare an increase in the debt ceiling by executive order and tell everyone else: Deal with it.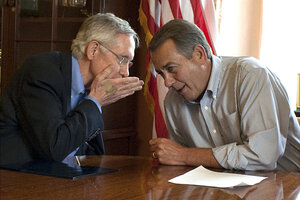 Harry Hamburg / AP
After a derailed House vote Thursday night, congressional leaders are scrambling for support for competing ways to raise the debt limit before the nation's borrowing capacity expires on Aug. 2 – including the prospect of doing the deed by executive power.
President Obama made no direct reference to the executive option when he addressed the debt-ceiling crisis on Friday morning, saying simply, "There are plenty of ways out of this mess, but we are almost out of time." He called for bipartisan action and slammed the GOP plan that failed to pass Thursday night: "It does not solve the problem and it has no chance of becoming law."
The stakes couldn't be higher for Speaker John Boehner (R) of Ohio, whose leverage in negotiations with the White House depends on his ability to speak for and deliver a majority in the House.
House Republicans pulled their latest plan to resolve the crisis just minutes before a Thursday evening vote, after falling short in their vote count. The plan aimed to raise the debt limit by at least $2.5 trillion, but in two steps – an initial $915 billion in spending cuts to be followed by another $1.8 billion, negotiated by a bipartisan congressional panel.
The idea of revising such a divisive debate just months before the 2012 elections is a nonstarter for Democrats and the Obama White House, who say that the uncertainty will further damage a fragile recovery.
---