Debt-ceiling compromise taking shape: What's in it?
The details of an emerging debt-ceiling compromise are unconfirmed and could change, but they appear currently to involve parts of Sen. Mitch McConnell's 'last choice' option, as well as a trigger to ensure promised spending cuts take place.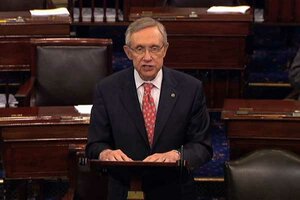 Senate Television/AP
After weeks of bitter words and punishing votes, congressional leaders are reporting progress toward a deal on the nation's debt crisis, which is nearing its Aug. 2 deadline.
Senate majority leader Harry Reid (D) of Nevada on Saturday postponed a 1 a.m. vote on his own plan to resolve the crisis, saying more time was needed to work out the details.
"There are negotiations going on at the White House now on a solution that will avert the catastrophic default on the nation's debt," he said in a surprise late-night statement on the floor of the Senate. "There are many elements to be finalized ... but I believe we should give everyone as much room as possible to do their work."
While details of the negotiations are unconfirmed, aides close to the talks say that a tentative framework includes a plan by Senate minority leader Mitch McConnell (R) of Kentucky to allow President Obama to raise the debt limit on his own, barring a highly unlikely two-thirds vote in both houses of Congress to block him.
The plan would also include corresponding cuts – $1 trillion immediately, and then another $1.8 trillion to be identified by a bipartisan commission later this year. This second round of cuts would include a trigger mechanism to ensure that the cuts are actually implemented.
Republicans want to ensure that that trigger does not include tax increases, and Democrats do not want to see a trigger that mandates continual domestic program cuts. A compromise may involve cuts to defense spending.
---