How debt-ceiling deal would cut federal deficits by $2.1 trillion
The debt-ceiling deal would not do enough to trim federal deficits to healthy levels. But it squeezes as much as possible from the limited middle ground between Republicans and Democrats.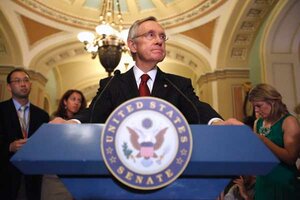 Jacquelyn Martin/AP
The spending cuts included in the bipartisan debt-ceiling deal would impose broad restraint on federal spending, but they are not going to put a sudden squeeze on programs like Social Security, nor will they of themselves solve America's deficit-spending problem.
Instead, look for a new era of austerity that starts with less-visible programs and ramps up slowly – with only minor federal spending cuts next year.
It's a careful bargain, designed to allow Republicans to say they took a major stride to curb runaway spending and Democrats to counter that they are avoiding cuts that hit hard on groups like the poor, seniors, and college students.
In total, the plan would reduce federal deficits by about $2.1 trillion between now and 2021 – a substantial amount of belt-tightening, although the country would continue to run deficits unless further changes were enacted. Many economists say about twice that amount of deficit reduction is needed to put the country on a sound fiscal footing.
The plan puts new caps on discretionary federal spending – spending not tied to entitlements like Medicare or Social Security. The resulting cuts reduce federal deficits by about $917 billion over the next 10 years, the Congressional Budget Office (CBO) estimated Monday. In conjunction with those cuts, the nation's debt limit could be raised by $900 billion, alleviating a looming crisis as the lack of authority to borrow makes it hard for the Treasury to pay government bills.
---