Fewer cops, more potholes: How debt deal could hit states hardest
Federal spending cuts mean fewer dollars will flow to the states for unemployment benefits, education, health care, and other state-run programs. Many states will have to cut services or raise taxes.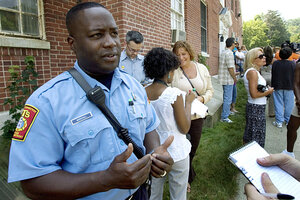 Steven Valenti / The Republican-American / AP
The debt-and-deficit bill signed into law on Tuesday forestalled a dangerous federal government default. But it will also slash aid to states already reeling from the recession, almost certainly forcing them to curtail services and raise revenues to pay for programs once bankrolled by Congress.
The bill, which the Senate approved and President Obama signed into law Tuesday, will eventually raise the government's debt limit by more than $2 trillion in exchange for equivalent savings. Congress will achieve nearly $1 trillion of those savings by cutting domestic discretionary spending – including funds for education, health care, job training – to its lowest level in over half a century, as a share of the GDP.
"State budgets are already devastated," says Ethan Pollack, a senior policy analyst at the Economic Policy Institute. "This deal just makes it far worse and shifts a lot of the pain onto state and local governments."
The recession pummeled states, diminishing tax revenues while increasing demand for public aid. Federal stimulus dollars that shored up many state budgets over the last few years are mostly spent, as are many states' rainy day funds.
When state lawmakers hashed out budgets for the fiscal year that began in July, 42 states and the District of Columbia faced a collective budget gap of $103 billion, according to the Center on Budget and Policy Priorities (CBPP), which tracks state spending. Because every state except Vermont requires a balanced budget, almost all were compelled to slash services, raise taxes, or both.
The law passed Tuesday will shrink the government's non-security, domestic, discretionary spending by about $500 billion over the next 10 years, according to the CBPP. Nearly a third of those funds typically flow to states.
---