Bruising battle over the debt limit: Where did it leave Obama?
The debt-limit battle left Obama battered, with his job approval rating near its lowest point. The poor economy is a persistent threat. The good news for him is Election Day is still a long way off.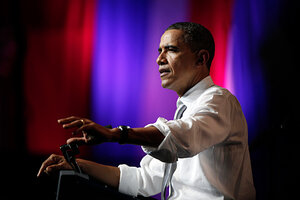 Carolyn Kaster/AP
President Obama tried to pivot Wednesday night from the grueling battle over the debt ceiling to more comfortable terrain: fundraising in his hometown of Chicago, with his 50th birthday Thursday as the peg.
But there's no avoiding the fact that Mr. Obama emerged from the debt-ceiling imbroglio bruised. His Gallup job approval is at 41 percent, near his all-time low, and he has taken a pounding from liberals for what they see as "surrendering" to the tea party-emboldened Republicans over major spending cuts and a lack of new revenue.
Even if Obama can still count on liberal votes come November 2012, the independents who were crucial to his election in 2008 have soured on him. His latest Gallup weekly approval rating among independents is 37 percent.
And in the latest blow to Obama's reelection prospects, the stock market plummeted nearly 513 points Thursday, a show of investors' lack of confidence in both the US and global economies.
"Obviously, if the economy is tanking and goes into a double-dip recession, he is in trouble," says John Geer, a political scientist.
The good news for Obama is that the election is in November 2012, and not in three months. If by the middle of next year, the economy is growing even modestly and unemployment is trending downward, he has a fighting chance. The Republican nominee will also matter: Will it be someone who can appeal to the middle or one of the more conservative candidates?
"I don't think the [debt ceiling] deal hurts him in the long run," says Mr. Geer. "The facts are that he tried to deal with this as best he could with the tea party people, they got to vote how they wanted, and then they came up with a compromise."
---