Deal in Senate restores FAA funding. Is bipartisanship taking off?
Obama hails the extension of FAA funding through mid-September, which restores tens of thousands of jobs and resumes the collection of $30 million a day in revenue for the Treasury.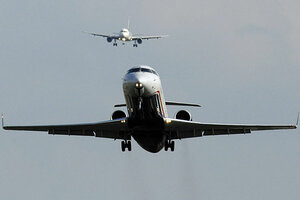 Jonathan Ernst/Reuters
Senate leaders on Thursday announced a deal to end temporarily the partial shutdown of the Federal Aviation Administration, reactivating some 74,000 jobs and halting the Treasury's loss of $30 million a day in uncollected airline taxes.
The FAA deal capped a week of bipartisan breakthroughs, including an end to the debt-limit crisis on Aug. 2 and a path forward on long-stalled trade deals with South Korea, Colombia, and Panama on Aug. 3.
"I'm pleased that leaders in Congress are working together to break the impasse involving the FAA so that tens of thousands of construction workers and others can go back to work," said President Obama in a statement. "We can't afford to let politics in Washington hamper our recovery."
Funding for the FAA expired on July 23, following nearly four years of short-term extensions. Both the House and the Senate have passed long-term FAA funding bills that clashed on partisan and parochial issues, such as rules that make it tougher to organize unions and subsidies to rural airports.
Since members of the House have already left town, the deal involves the Senate's passing of a House measure extending funding for the FAA through Sept. 16, in a vote expected on Friday. The agreement also frees up $2.5 billion in federal grants for delayed construction projects. Congress will return to the outstanding issues in September.
"This agreement does not resolve the important differences that still remain," said Senate majority leader Harry Reid in a statement. "But I believe we should keep Americans working while Congress settles its differences, and this agreement will do exactly that."
---