S&P downgrade of US credit rating sends clear message to Congress: shape up
S&P, one of the three major credit-rating firms, downgraded its rating for US debt Friday night – a move that has the potential to further spook global markets and drive up borrowing costs in the US. The reason for the downgrade, S&P said, was congressional dysfunction.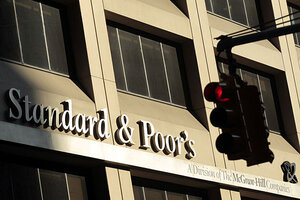 Brendan McDermid/Reuters/File
In downgrading the United States credit rating for the first time in its history Friday, Standard & Poor's left little doubt that, for the moment at least, America's debt crisis is, in fact, a political crisis.
The impact of the S&P decision to drop US debt from its top AAA rating to AA+ will not be more fully known until Asian markets open on Sunday night. But the move has the potential to raise interest rates on the national debt – a move that could have the knock-on effect of raising interest rates across the US economy, from mortgages to car loans.
Some evidence suggests the impact could be minimal, however, at least in the short term. Markets have guessed at a looming S&P downgrade for weeks and many might have already adjusted somewhat to account for it. Moreover, US Treasury bonds have been considered such a safe investment for both American and overseas investors for so long that they have become deeply interwoven into the global economy. Buyers might not want to risk now demanding higher interest rates from the US because of the shock it would send through markets worldwide.
And perhaps most important, the two other major credit-rating agencies – Moody's and Fitch – have maintained the US's AAA rating.
But there is no doubt that the S&P downgrade is an alarm bell not only for the US economy, but more particularly for members of Congress. While S&P's ultimate concern is financial – the prospect that the national debt could expand out of control – the reason for the downgrade was congressional dysfunction.
In other words, S&P suggests that the US has the financial ability to head off a debt crisis, but doubts whether it has the political ability to strike the compromises necessary.
---