Texas Gov. Rick Perry tells prayer rally: 'Our heart breaks for America'
Texas Gov. Rick Perry, a potential Republican candidate for the White House, headlined 'The Response' Saturday – a revival-style prayer event in Houston that drew about 22,000 people.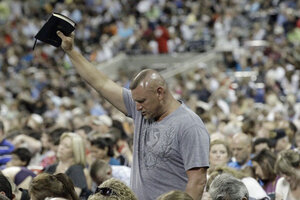 David J. Phillip/AP
Texas Gov. Rick Perry (R) addressed a seven-hour prayer and fasting rally in Houston Saturday, which was called to address the nation's "historic crisis."
Speaking in the late morning, Governor Perry read three portions of scripture and asked for prayers for the nation, President Obama, the military, and military families. Frequently choking back tears, Perry addressed "discord at home," saying "our heart breaks for America.… We see fear in the marketplace. We see anger in the halls of government and as a nation, we have forgotten who made us, who protects us, blesses us, and for that we cry out for your forgiveness."
"The Response" is taking place at Reliant Stadium, a 71,000-seat facility in Houston that hosted the Super Bowl in 2004. Although the event is free, participants are required to sign up to attend. The Associated Press reports that 8,000 people were registered by Friday. Speaking from the stage late Saturday morning, James Dobson, founder of the evangelical Christian organization Focus on the Family, said 22,000 people were in attendance.
---