Rating falls, markets plunge, critics rage. But tea party isn't blinking.
Tea party lawmakers say the S&P's downgrade of the US credit rating and the markets' convulsive reaction on Monday is merely confirmation that they had been right all along.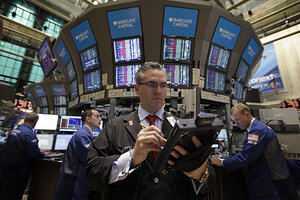 Brendan McDermid/Reuters
It was tea party intransigence in debt ceiling talks that led to the first-ever downgrade of the US credit rating, critics say.
But as world financial markets reacted convulsively to the downgrade on Monday, tea party leaders were not blinking.
"Blaming the tea party for America's debt crisis and downgrade is like blaming the fireman for fires," said Sen. Rand Paul (R) of Kentucky, whose surprise primary victory in May 2010 put the tea party insurgency on the map.
From Standard & Poor's stunning downgrade on Friday to a 634-point plunge in US stock markets on Monday, tea party lawmakers saw it all as confirmation that they had been right all along.
The tea party response to the events comes down to two themes: First, the way out of unsustainable debt is deep cuts in spending, no tax hikes, enforceable spending caps, and a balanced budget amendment to the Constitution, period.
And second – in response to S&P's concern that Washington doesn't have the political capacity to solve its debt problem – if there is any dysfunction in Washington, it's the refusal of the White House to adopt the tea party formula.
"While Democrats would like to lay the blame on the tea party for the current economic failure, it is their president who has failed in leadership, failed to lower unemployment, failed to rescue our economy, failed to prevent a downgrade of our debt," said Senator Paul, in a statement on Monday.
---