In Wisconsin recall, voters vent anger at Washington-style politics
The Wisconsin recall has brought record-breaking political spending to the state, and as voters went to the polls Tuesday, many said they simply wanted the contentious process to be over.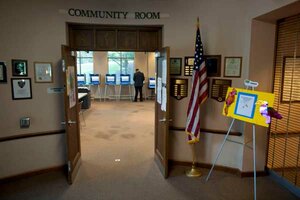 Darren Hauck/REUTERS
In the weeks leading up to Wisconsin's recall elections for six Republican state senators Tuesday, voters have endured a nearly constant stream of negative ads on their televisions, campaign mailings in their mailbox, and spangled signs on neighbors' front lawns. State politics has been inescapable.
So on a perfect summer Tuesday morning at polling places like the public library in Whitefish Bay, Wis., voters like Cindi Larson of nearby Shorewood showed up not so much to vote, but rather to vent.
Republican or Democrat, people in this placid, tree-lined suburb of Milwaukee are exhausted by politics – by the anger that has coursed through the state Capitol since Republicans introduced a plan in February to strip many state unions of their collective-bargaining rights, by the political machinations involved in delaying and then passing the bill, and by the recall recriminations that have followed.
In short, they are frustrated by the entire Wisconsin political process. And it was in that mood of steely resolve that many interrupted their pleasant summer routines for a civic duty that was, on this occasion, decidedly unpleasant.
"I want to get it over with, it's enough," Ms. Larson says. "State politics here are getting worse than in Washington. These [politicians] are playing with our lives and they need to be sent a message."
---