How ready is Rick Perry to run for president?
Texas Gov. Rick Perry has a presidential-election infrastructure ready to go, say insiders. His appeal to Christian conservatives and the business community position him as a strong, if late, challenger.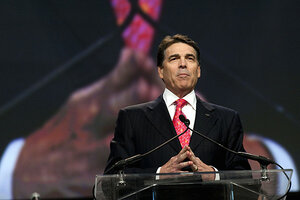 Erika Rich / The Daily Texan / AP
Is Rick Perry ready?
The Texas governor has already made clear, via leaks from aides to the media, that he will effectively announce his intention to run for president Saturday. First, Gov. Rick Perry is appearing before a conservative bloggers' convention in South Carolina, then he immediately flies to New Hampshire for an event in a GOP activist's home. The next day he comes to Iowa, completing the trifecta of earliest-nominating states.
But there's more to running for president than throwing your (10-gallon) hat in the ring. There's staff to assemble and donors to contact. Governor Perry has made serious headway on those fronts, and the response has been positive, Republican insiders say. And even if he's a bit behind the already-declared candidates in fund-raising and in setting up field operations in the early states, they expect Perry will catch up.
"It sounds like [Perry's advisers] have done a lot of ground work, such that they can turn a switch on," says Chip Felkel, a Republican strategist based in Greenville, S.C. "I don't think they'd make the announcement if they hadn't."
Furthermore, he says, former Massachusetts Gov. Mitt Romney is an unusually weak front-runner for a party that usually goes into an election cycle with a fair idea of who will win the nomination. And many GOP primary voters remain undecided or willing to change horses. Ditto party activists.
---