Who really won Wisconsin recall elections?
After record-breaking electoral spending, efforts to recall six Wisconsin state senators resulted in unseating only two. While Democrats claim a moral victory, Republicans see wasted effort.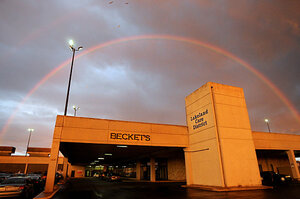 Adam Jungwirth / Oshkosh Northwestern / AP
Republicans have narrowly won the great recall battle of Wisconsin.
In an unprecedented series of recall elections on Tuesday, Democrats took two Wisconsin state Senate seats. That's one short of the Democratic goal of three, which would have allowed the party to gain majority control of the chamber.
Across the country, GOP adherents celebrated the win as a triumph for Gov. Scott Walker and his effort to take collective bargaining rights away from most public-sector unions.
Governor Walker's anti-collective bargaining proposal sparked a firestorm which drew national attention earlier this year. Democratic lawmakers fled the state to prevent a vote on the legislation, but Republicans eventually used a procedural maneuver to ensure its passage.
The recall elections grew out of union and Democratic anger at this move. But for now at least, there is to be no political revenge.
"You've earned this, Wisconsin Democrats. Tonight's results cost you twenty million, and you didn't reach your primary objective. Enjoy," said the conservative blog RedState on Tuesday evening.
Gov. Walker himself was more measured.
"In the days ahead I look forward to working with legislators of all parties to grow jobs for Wisconsin and move our state forward," he said in a prepared statement.
---