Tea party fortunes are fading even as its star Michele Bachmann shines
A new poll finds favorable views of 'the tea party movement' have slumped to a new low. But that hasn't dimmed the star of Michele Bachmann, seen by many as a winner of the televised GOP debate.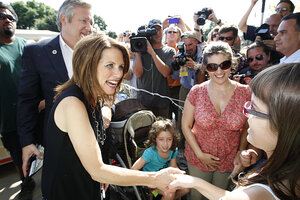 Charles Dharapak/AP
Even as tea party idol Michele Bachmann has emerged as a prominent contender for the Republican presidential nomination, the popularity of the tea party movement among the US public is slumping to a new low.
That's the message of a new CNN/Opinion Research poll that asked whether Americans have a favorable opinion of various people and groups.
When it came to "the tea party movement," known for its hard line on federal spending and deficits, only 31 percent of respondents said they have a favorable view. That's down from 37 percent in mid-July, and the lowest level since the CNN poll began asking the question in January 2010.
Fifty-one percent of Americans said their view of the tea party is unfavorable, the most ever and the first time a majority of Americans have held that view in the survey. The poll was taken last weekend, Aug. 5 to Aug. 7.
However the downshift in tea party esteem hasn't dimmed Ms. Bachmann's own star, at least so far.
---