Rick Perry enters presidential race. Can he overtake Mitt Romney?
Rick Perry touts his track record as a tax cutter and social conservative in Texas, stealing some thunder from other candidates on day of Iowa's straw poll.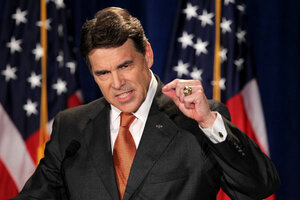 Alice Keeney/AP
Rick Perry declared himself a candidate for president, in a move that adds a strong new contender to the Republican nomination contest.

With his intentions now official, the Texas governor is already viewed as potentially able to knock former Massachusetts governor Mitt Romney out of front-runner status. One recent opinion poll shows the two nearly tied, and ahead of others in the pack.

Governor Perry framed his speech Saturday around a simple message - that with a different occupant in the White House, Americans will be able to revive their economy and claim a brighter future.
"Page one of any economic plan to get America working is to give a pink slip to the current resident in the White House," Perry told an audience in Charleston, S.C. He said that if elected he would "work every day to make Washington, D.C., as inconsequential in your lives as I can, and free our families, small businesses, and states [to] create, innovate, and succeed."

The announcement comes the same day that other Republican hopefuls were appearing at the Iowa straw poll, a litmus reading of heartland voters that has long been an early milestone in the nomination process.
---