In final Wisconsin recall, signs of a national tea party backlash?
Wisconsin will hold its final two recall elections Tuesday amid signs that the bellwether state might be swinging back left after jumping on the tea party bandwagon in 2010.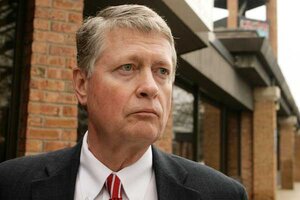 Scott Morgan/The Rockford Register Star/AP/File
Recall fatigue may be setting in for Wisconsin voters. But when another cluster of them heads to the polling booths Tuesday, their votes not only could have a significant impact on the Wisconsin Senate, but also could provide a glimpse a what might transpire nationwide in 2012.
In Tuesday's recall elections, two Democratic incumbents in the state Senate face Republican challenges. Last week, six Republican state senators faced recalls, with four holding on to their seats. That leaves Republicans with a 17-16 advantage in the state Senate.
While Republicans cannot lose their majority Tuesday – meaning they will retain control of the Senate, Assembly, and governorship – picking up an extra seat could give them valuable legislative breathing room.
If both Democrats prevail, however, the election could offer further evidence that the country's broad political middle is swinging back left after the tea party triumphs of last November. The composition of Wisconsin's electorate almost exactly matches America's, polls suggest, meaning that the state is emerging as a microcosm of the national political mood, which makes it a crucial bellwether in the 2012 national election.
Fundamentally, Wisconsin is a purple state – neither red nor blue – "and that makes it important," says John McAdams, a political scientist at Marquette University in Milwaukee.
---