Democrats win in latest Wisconsin recall. Is state a little less red now?
Two Democratic state senators kept their seats in Tuesday's Wisconsin recall election. Republicans still hold the legislature, but less comfortably. They are now more likely to tailor policy to independent voters, say analysts.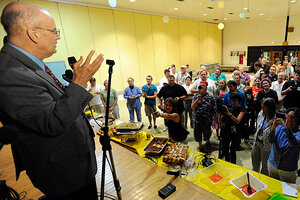 Brian Passino/Kenosha News/AP
Republicans in Wisconsin's Senate will retain their razor-edge margin over Democrats in the wake of a special recall election Tuesday.
Voters allowed two Democratic incumbent senators to retain their seats, meaning Republicans have just a one-vote majority in the Senate, 17 to 16. That's a narrower margin than before this month's spate of recall elections. Expectations are that it will push Gov. Scott Walker (R) toward a legislative agenda that holds greater appeal for Democrats or that is handled more sensitively than the so-called "budget repair bill" from February, which so angered Democrats that they fled the state to prevent a vote on it.
The reshuffling is expected to make it more difficult for the Republican majority to pass controversial legislation such as stricter restrictions on abortion rights or harsher penalties for illegal immigrants.
An earlier recall election, held Aug. 9, dashed Democrats' hopes of seizing control of the Senate, but it did roll over two Republican seats in their favor. For Republicans, that represented a retrenchment from their gains of the 2010 midterm elections, which swept them into power in both houses of state government and the governor's office.
Both Democratic senators up for recall Tuesday managed double-digit victories. With 95 percent of precincts reporting in District 12 by midnight, Sen. Jim Holperin (D) defeated Kim Simac, a tea party organizer, 55 to 45 percent. In the District 22 race, Sen. Bob Wirch (D) defeated Jonathan Steitz, a corporate attorney, 58 percent to 42 percent, with all precincts reporting.
---